25 October 2007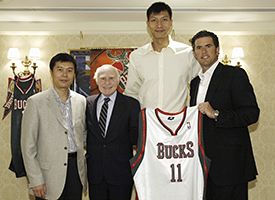 China's newest basketball phenomenon, Yi Jianlian, has been getting some sympathetic coverage lately in his now hometown Milwaukee Journal Sentinel. The 7-footer from Shenzhen, playing in pre-season for the NBA's Milwaukee Bucks, was recently praised by his coach Larry Krystkowiak who told the Journal Sentinel, "I love what he's doing... I think he's really going to blossom."

Yi raised a typhoon of controversy this summer by initially refusing to sign with the team, with his agent sending out messages that Milwaukee is too small of a market, there are not enough Chinese in Wisconsin and he wouldn't get enough playing time with the Bucks. Beijing-based journalist and Milwaukee native son Jonathan Ansfield summed up the whole drama better than anyone on the Spot On website, calling the whole mess a "go-nowhere charade." The Bucks finally convinced Yi to put pen to paper when the team's owner, U.S. Senator and department store mogul Herb Kohl, personally flew to Hong Kong and reportedly guaranteed Yi that he would play 25 minutes a night.

One of the oddest assertions made during the drama around Yi's signing was that Yi wouldn't be able to meet any nice Chinese girls in Milwaukee. First off, as Sufei might ask, does a Chinese guy have to stick to Chinese girls? Who's to say Yi doesn't "like 'em brown, yellow, Puerto Rican and Hatian," like Phife from a Tribe Called Quest? (I guess in Milwaukee you might add pasty and chubby into the mix.) And if he doesn't I'd suggest experimenting a little. Secondly, somehow I think an international celebrity, easily pulling in $5 to $10 million a year with endorsements, would not have any trouble convincing a cute Chinese girl from L.A. or Beijing to spend some time in his McMansion in Milwaukee.

I didn't hear anyone shedding any tears for my man God Shammgod (best basketball player name ever) when he was playing for the CBA in Shanxi province because there aren't enough African-American girls in Taiyuan. (Under "interests" in his Myspace profile Shammgod lists "big bootay hos" )




God Shammgod outside a McDonalds in Taiyuan

Whatever progress Yi is making in Milwaukee Buck's preseason games, he is sure to face intense scrutiny in his rookie year, from both Chinese and US fans and media. His prima donna act over the summer will only heighten the criticism when he inevitably hits rough patches as he adjusts to the best league in the world.

I guess spending a few years in China has turned me into a homer, but I have to admit I'm rooting for Yi to succeed on the court. As far as his lovelife goes: Yi, if you're striking out in Milwaukee, I'll be your wingman if you want to hit some clubs in Beijing.

Luke @ 16:10 | .(1930) |